Our Flower & Gift Shop
Shop Now
Our Staff
Our staff is committed to providing support, compassion, information, and direction as needed to all members of our community, their families, and friends who are dealing with loss and grief.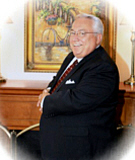 Larry Tabler
Owner/Funeral Director
Larry Tabler is from a small town in Nebraska. He graduated from North Platte High School in 1965 and went to Midland College in Fremont, Nebraska where he majored in business and minored in science. He has been in funeral service since 1966 when he was hired at the funeral home near where he was going to college. Larry decided to change his major to Mortuary Science with the encouragement of his employer who also was the owner of the funeral home because he saw great potential in Larry. In 1970 he graduated from the Dallas Institute of Mortuary Science, Dallas, Texas, in both Mortuary Science and Funeral Directing in the top five percent of his class. Larry's studies also included embalming and he ultimately has become a highly qualified embalmer. He also passed the National Boards Examination after graduation.
After he moved back to his home town of North Platte, Nebraska, Larry and his beloved father built Tabler Memorial Chapel from the ground up. This is a unique accomplishment that is reserved for relatively few funeral directors. Larry established, owned and operated Tabler Memorial Chapel in North Platte until 1984 when his partner bought the business. Larry managed Highland Mortuary, a corporate owned funeral home with cemetery in Thornton, CO for over eight years.
Larry has always been an asset to wherever he has lived and worked. He has been a Rotarian for over thirty-eight years serving on its board of directors as well as a past president. During his forty-seven years in funeral service, he has served many community charities such as United Way and the American Red Cross. Larry was president of his church council for two terms and treasurer for ten years. Larry has served families in Nebraska and Missouri where he was licensed as a funeral director and embalmer and continues to serve in Colorado for a combined total of over 50 years.
DeWitt and Tabler Funeral Home, complete with an on-site crematory, AAA Crematory. He believes that the on-site crematory is very important because your loved one is cared for under one roof and not at a crematory that is at another location. We have priced our cremation services the same for DeWitt and Tabler Funeral Home and AAA Crematory which are located at the same address. We believe that this is a very honest way of doing business. Even though we have designated hours of operation at the funeral home and crematory, we can be reached 24/7 personally. Larry does not use an answering service. Larry the owner, answer our own phones because we know that people need help and want answers right away. Larry does not believe in spending money on all types of advertising for he believes that word of mouth is the best form of advertising. He believes in providing excellent service to the families who call on us at a reasonable and fair price so that we can continue to help others in the future. Larry believes in treating people the same way that he wants to be treated. This is the way that he has lived his life both personally and as a professional.